Android O Features Revealed in Developer Preview: Here's all you need to know about O
Oreo? Orange? Omelette? Well, its the best time around the android calender whenever the latest flavor is about to come to our lives, when we start predicting about what the latest version would be called. Seriously Ios lovers, this is one thing you miss for sure. Life is something way more than just version numbers right?
So talking about versions, the latest one in android is right around the corner, with the developer preview already been revealed.
Google recently has released the developer preview of the latest iteration, as has always been the trend, so as to give everyone a hint of what's going to come in the future, plus giving developers a chance to prepare themselves accordingly.
For sure the final build is never the same, with a lot of tweaks, additions and subtractions, but the basic flavor will still be the same.
This is still a very early stage for Mr. O but there were still some noteworthy changes which we thought are worth mentioning here:
Better battery life which is achieved by a more in depth control of background apps
Notification Channels:

This is probably going to be one of the more promising features of the new update as it brings in the best control over the notifications by the user. How this works? Imagine you need to be notified only of a the football tournament schedule from your favorite sports app, and you do not want to be bothered about any other sport event or score, with this feature, you could do that. Very productive a feature isn't it?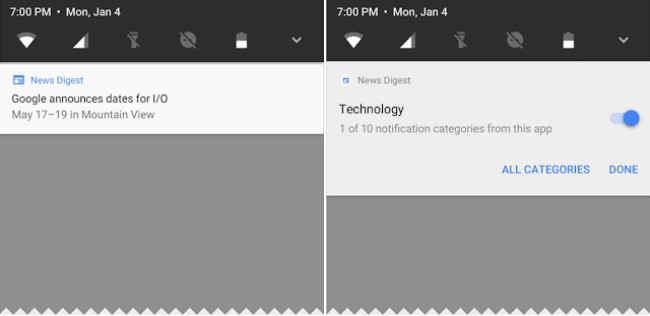 Adaptive Icons: While this feature has been there for quite a while if you have used custom launchers like GO launcher or nova launcher, but the new release would bring in this feature natively, meaning you can see your clock ticking in your app drawer, and your calender showing you today's date, with the temperature shown right there, without having to open the weather app.
Picture in picture(pip) mode for devices:there's a new app overlay window and multi-display support for launching an app on a remote display, just like Ios
Improved Keyboard navigation: A more reliable and predictable model for 'arrow' and 'tab' navigation .

Other than all this, one could expect an all round performance improvement and more memory optimisation.
The final build will take some time to be released, considering android nougat is still not at all widespread( 1 percent of the total devices has nougat, rest are still in line ). But we can still expect this to be a head turning update, and new UI changes would never hurt, considering there has not been much of a significant change in the UI since Ice cream Sandwich to be honest.
What are your thoughts about Android O?
Do let us know in the comments section down below.